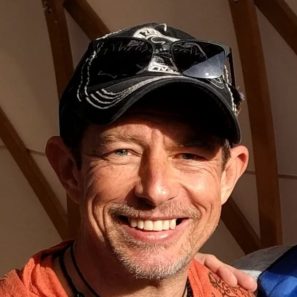 Artist's Statement:
"Kia Ora and Hello,
My name is Guy (Gideon) du Toit and it's my pleasure to welcome you to my site.
I'm not sure I can explain it, but from the moment I applied a gouge to wood for the first time I understood that the wood was taking me on a journey. Something in me came alive and I discovered a new passion. And so Journey Woodturning was born.
In Germany craftsmen are called journeymen. Like all crafts, wood turning is a continuous journey of learning and discovery. The wood turned creation undergoes a miraculous journey itself. Beginning as a seed that grows to become a tree, a tree that becomes precious timber, the timber that is crafted to reveal the hidden artworks inside through the alchemy of wood turning.  
The  Journey Woodturning insignia represents my path to the craft I love and honours the cycles of life and our connection with nature.
It is a journey for the seed that grows to become a tree and then to become an object of wood turned art.
The central piece of the insignia is the silhouette of an Acacia tree, specifically a Camelthorn tree. For me, the Acacia tree is the tree of Africa.  This is the tree of my youth in the bush of South Africa.  Without a tree, there can be no wood turning.
The mountains represent all the mountains one climbs in your journey through life, all the obstacles you overcome, and also the peaks you aim for.
The road is the journey with no destination but only an aim.
The arrows represent the spinning of the lathe and the cyclic nature of life.
Join me on this journey."
Guy du Toit
Guy (Gideon) du Toit was born in South Africa and emigrated to New Zealand in 2015.
In 2016 he joined the Hamilton Wood Turners Club in Hamilton, Waikato, New Zealand. He found himself instantly enamoured and facinated by wood turning and discovered a natural talent for turning. 
In 2018 he applied to Ecole Escoulen wood turning school in France and was privileged and honoured to be accepted as one of the 11 students for the full time course. In March 2019, after 700 hours of full time tuition he graduated with a diploma in wood turning from Ecole Escoulen after passing the two very stringent practical exams.
Guy has settled in Kerikeri in the far North of New Zealand and loves how close he is to the ocean and especially the Kauri forests. 
He has a great love for nature, animals, birds and a particularly soft spot for rats and bats. He strives to minimise his impact on the environment as much as possible and strives to find a balance in today's consumer 'throw-away' society by living as ecologically sensibly as he can.